As is usual practice in the norm, the infusion of music performance  into ceremony was maintain in the 2018 FIFA world cup.  British singer Robbie Williams and Brazil legend Ronaldo got the 2018 World Cup in Russia under way with the opening ceremony in Moscow. We can't easily forget Shakira's fantastic performance in her rendition of "It's time for Africa", the thyme song of the 2010 World Cup in South Africa
Williams performed a series of his hits, joined by Russian soprano Aida Garifullina, prior to the hosts' opening match with Ronaldo dummied the opening kick, allowing a child to pass the ball to mascot Zabivaka.
Russian president Vladimir Putin then gave a speech at the Luzhniki Stadium.
"We are sincerely happy to host the World Cup in our country," he said.
"Football is truly loved here. Russia is an open, hospitable and friendly country.
What happened?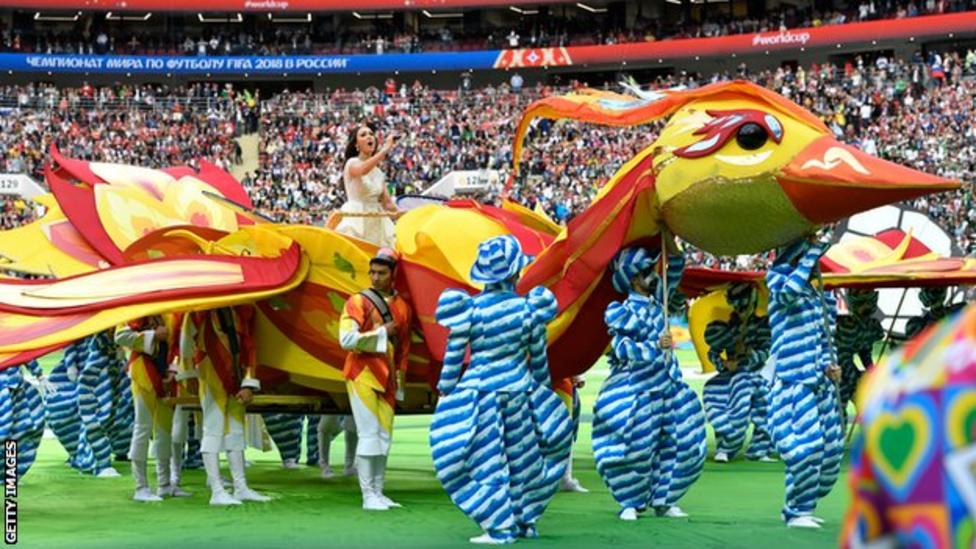 A large image of a football was overlaid on the pitch, with a stage in the centre, surrounded by dancers.
Former Real Madrid and Barcelona striker Ronaldo, who scored twice as Brazil beat Germany in the 2002 final and was part of the 1994 winning squad, walked out with a child wearing a Russia 2018 shirt.
Williams wearing a red and black leopard print suit, then took over proceedings with a rendition of Let Me Entertain You, before Garifullina was carried out on to the pitch on the back of a 'firebird' float.
Williams sang a section of Feel before he and Garifullina performed a duet of Angels as performers emerged, dressed in the colours of the flags of all 32 teams and carrying a sign bearing the name of each nation.
Ronaldo returned with the official ball, which was sent into space with the International Space Station crew in March and came back to earth earlier this month.
He then shaped to take the opening kick but pulled out, inviting the child to pass it to Zabivaka, a brown and white wolf that is the official mascot of the tournament.
As the playing surface was cleared in time for kick-off, Williams closed with Rock DJ.
Putin's plea for unity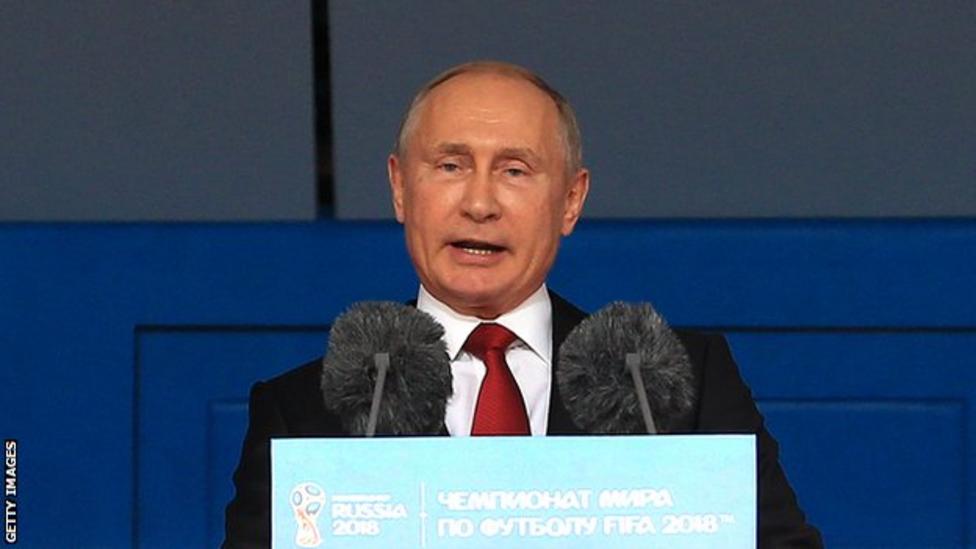 Putin addressed the crowd and the worldwide television audience in a lengthy speech, calling football a uniting force.
"Whatever traditions we hold, football brings us together in one single team and we are united by our affection for this spectacular and vibrant game," he said.
"I wish all the teams success and an unforgettable experience to fans. Welcome to Russia."
Russia has faced several controversies in preparing to stage the tournament including
After Putin, Fifa president Gianni Infantino also gave a speech in Russian, English and Arabic.
"As of today, for one month football will conquer Russia and from Russia football will conquer the whole world – enjoy the biggest celebration on earth," he said.