Mark Selby claimed his fourth World Championship title with an 18-15 victory over Shaun Murphy as he won the 500,000.00 pounds first prize at the finals that held on the 3rd May 2021 at the sold-out Crucible Theatre.
Selby led 14-11 prior to the final session, runs of 66, 68 and a superb 120 helped him break Murphy's resistance in a high-quality encounter final match.
Selby, 37, collects £500,000 in prize money and has moved up to second position in the world ranking perking order behind Judd Trump.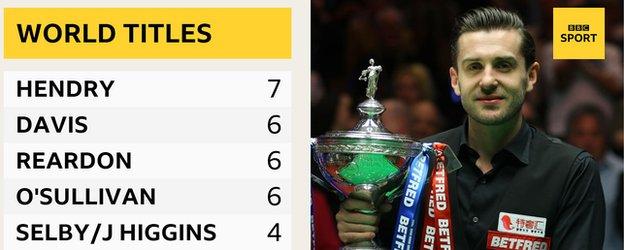 Having been perched at the top of the world rankings during the period in which he claimed three world titles in four years, Selby's dominance once looked unchallengeable.
Now coached by Chris Henry, Mark Selby seemed to have returned to form and the quality of his all-round game suggests he is more than capable of continuing to win snooker's biggest prizes.
Equaling with Scotland's John Higgins on four world title, only Hendry (seven), Ronnie O'Sullivan, Steve Davis and Ray Reardon (all six) have won more world titles than Selby.
To get to the final Mark Selby beat Mark Williams 13 – 3 to setup an all Scottish semi final match against Stuart Bingham that ended 17 – 15 before meeting Shaun Murphy in the Finals.
Meanwhile in an impressive show of determination and gouts, Shaun Murphy beat Kyren Wilson 17 -12 in the semi's after recovery from Kyren early lead in the second session of the match.
Selby said on BBC Two. "To win it once against Ronnie O'Sullivan for the first time was a dream come true – to win it four times is something I could only have dreamed of,"
"Every time you get to a world final you always try your hardest – it's such a tough tournament to get there and you never know whether it's going to be your last.
"My aim is to get back to world number one. You still have goals in your career. I'm going in the right direction."
With the coach of both players Henry an intrigued spectator, Selby had earlier maintained his control of the match in Monday afternoon's session.
'Life has been difficult' – Murphy thanks capacity Crucible crowd
The concluding sessions of the Championship marked a notable sporting milestone with a capacity crowd returning to a major UK sporting event for the first time since March 2020.
And as well as adding a semblance of normality, the 980 fans brought a return of the Crucible roar and added to the nervous tension, particularly when Murphy threatened an improbable comeback – turning thoughts towards a first final-frame decider since Peter Ebdon's 18-17 win over Hendry in 2002 – with back-to-back centuries.
With Selby on the verge of victory at 17-13, Murphy clawed himself back to 17-15 with a superb show of under-pressure potting, but a missed red down the left cushion when well placed ended his hopes of adding to his 2005 title.
"Mark is super-granite, unfortunately for me," Murphy said on BBC Two.
"I started well but he went into super-hard mode. He broke me last night with that three-frame lead which was a tough lead to give him in a match of this calibre.
"Life has been difficult for everybody over the last 12 months but I want to say a very deep and personal thank you for every one of you who has bought a ticket over the last 17 days.
"Sport is nothing without fans and we've been thrilled to have everyone back and a full house tonight. It's been very tough for me this year with the travel restrictions but you've brought me back."
As well as the consolation of a runners-up cheque worth £200,000 and a £15,000 prize for the tournament's top break of 144 in his second-round clash with Yan Bingtao, Murphy can leave Sheffield with his head held high.
During the match one of Nigeria's top Snooker Wole Akintola made a post about Selby on Open Classic, a WhatsApp forum for Snooker players in Nigeria
"This no be kyrén wen I'm gas finish after second session o. This is a seasoned professional….he will do everything to frustrate you…play slow…catwalk around the table…twitch…anything…as long as he gets the job done!
"Murphy is too gentle for his rófórófó antics😁"
After the match Akintola posted
"But Murphy tried sha, his undoing was that last red on the rail….why on earth will you try to pot it,play safety….cue ball is too close, pocket is too far….bad choice and he handed the game over to Selby.
I don study Selby….he will win at all cost…this is the first man to break the curse of the crucible and was ruthless in executing it
That brat go dey fume now..😁😁😁
Den go set for Selby sha…could be the last WSC he will win….but his safety is superb…without a doubt, the best tactician the game has ever known, checkout his escapes from snookers….
asentv.tv brings to you up-to-date news and happening in sports and entertainment. Subscribe to our YouTude channel for interest program and videos